Nuit Blanche 2023 : Le Trapèze des Ames
Nuit Blanche is a not-to-be-missed event celebrating contemporary art and the capital's wonderful sites, often inaccessible at night. For one evening, it's a chance to rediscover the city of Paris through an original, nocturnal artistic itinerary. From the heart of the city to its outskirts, the 2023 edition reexamines our different ways of living and acting together.
A nocturnal invitation to discover the glittering vegetation of Buttes Chaumont
This year, Greenline Foundation joins forces with LAO to offer an immersive, magical show, where sound and light enchant the trees of the Parc des Buttes Chaumont, on Saturday 3rd of june from 10.30pm to 2am.
The Trapèze des Âmes show is an invitation to plunge freely into the world of a dreamlike forest. The symbiosis of monumental laser projection and music make up this abstract, spellbinding creation, creating an immersive open-air experience. A dreamlike journey to explore the magical world of shimmering, sonorous vegetation, accompanied by artist Sarah Valente's Magia installation. Under the cover of night, the Trapèze des Âmes awakens people's senses to the importance of preserving our forests, in this new version accompanied by a text by Georges Sand, written in 1873, and more topical than ever on the importance of preserving our natural heritage.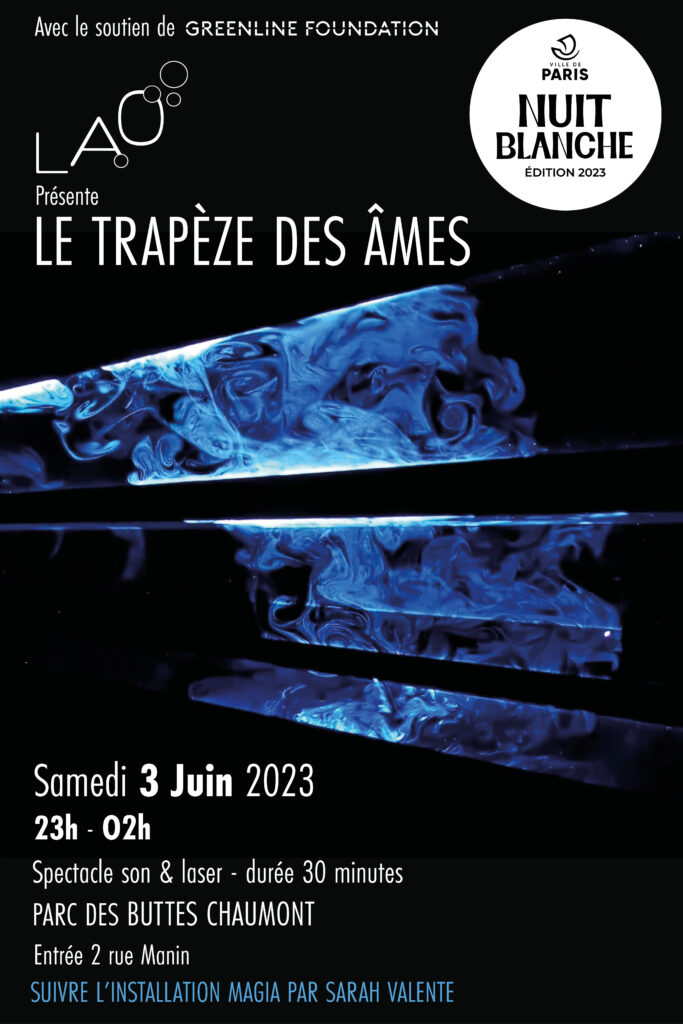 Practical information
Nuit Blanche from Saturday June 3 to Sunday June 4, 10:30 pm to 2 am
Shows every 30 minutes
Buttes de Chaumont – Access via the entrance at 2 rue Manin
No registration required, free of charge