LA MAGMA
"To imagine is to raise the tone of reality.
So we'll be imagining non-stop.
We'll sculpt, parade, choreograph,
We'll be restless and proud to be alive.
MAGMA is an unprecedented experiment: it invites artists, creative souls and communities to appropriate forms of citizen mobilization to express their commitment to the living in public space. Punctuated by performances, music and dance, the artistic promenade organized by Collectif Minuit 12, Le Bruit Qui Court, Greenline Foundation and Ecologie Culturelle, will set off from the Académie du Climat at 2pm on June 11, 2023.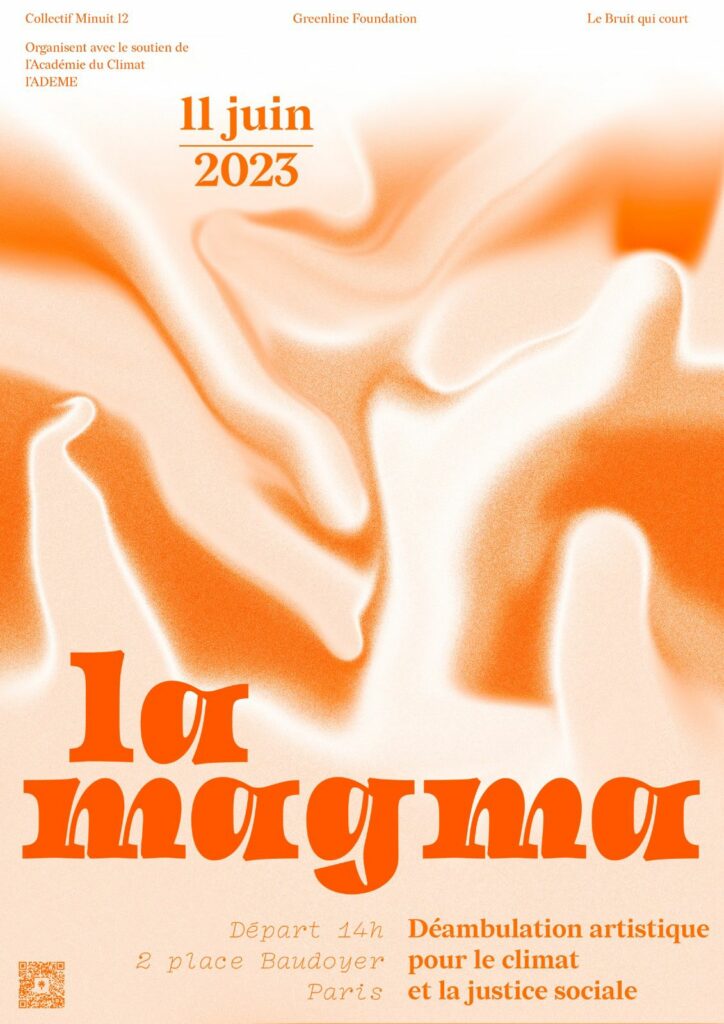 The aim of the event is to mobilize artistic communities and creative people in a festive, beautiful and performance-led event. A visually striking stroll that will highlight the commitment of different artistic communities through their multiple aesthetics and sensibilities.
By transforming the street into a playground for artists and activists, LA MAGMA reconciles the poetic and the political. The public space will become a place for experimentation, a sensitive territory for touching the hearts and emotions of the public.
Disseminating militant energy will be at the heart of this event: making us feel the strength and power of creativity, of all artistic forms, committing ourselves with a joyful and enthusiastic eye to the future of living things.
La MAGMA prepares at the Climate Academy
First signs of Magma, June 3, 2023, 8.30pm to 10.30pm
The "Visage" anti-face-recognition make-up workshop will be offered to the Nuit Blanche public at the Académie du Climat. A series of portraits based on the imprint of the creations produced, a collaborative fresco composed throughout the workshop will be presented at Magma, on June 11, 2023 in Paris.
Programming week from June 6 to 11, 2023
The Magma Festival takes over the Académie du Climat, offering a series of events bringing together artists, thinkers, children and the general public, to mobilize creative minds in the face of the climate emergency.
On the program: banner-making, immersive experiments, improvisational theater, collaborative writing workshops, round-table discussions and performances.
Programming details
VISAGE workshop: anti-face-recognition make-up – Saturday 03 June – 7-11pm – Festival launch as part of Nuit Blanche
Collective exhibition, reception desk for artists wishing to prepare for the Sunday June 11 walk – From Tuesday June 06
Art workshops for children: Creating a flocked banner with TUMO (9-13 years) – Wednesday, June 07 – 2pm-5pm
Immersive Tree-Sun Experience with ONYO – Wednesday, June 07 – 16h-20h30 (sessions every 30 minutes)
Activist vigil with YES WE CAMP – Wednesday, June 07 – 18h-20h 
Theater – Improvisation match with CHUTES LIBRES and IMPRO ERARD – Wednesday, June 07 – 8:30-11pm
Collaborative writing workshop with FUTURS PROCHES: "What if, in 2050, artists changed the way we see and interact with the living?" – Thursday, June 08 – 6:30pm-9:30pm
L'APPEL DES FORETS, Assembly led by Paloma Moritz to mobilize artists to protect forests – Friday, June 09 – 6.30pm-10pm 
Projet MAGMA artistic performance featuring 20 dancers and the Curieux orchestra – Saturday, June 10 – 7:30 and 8:30pm
Prior to the launch of LA MAGMA, the artistic walk for the climate on Sunday June 11, at 2pm in front of the Académie du Climat.